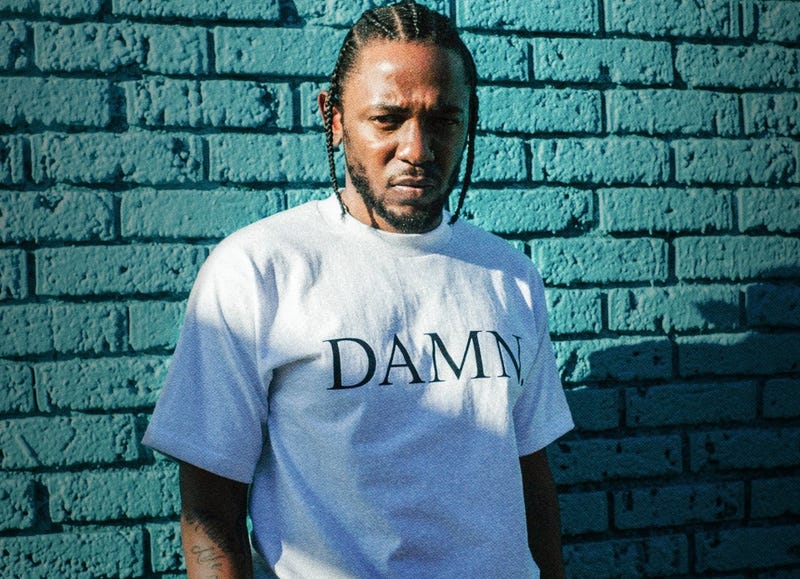 Who will survive in America? Not the poor, the minorities, the military officers, the honest politicians, journalists, thick teasers, skeezers or weirdos. Maybe not Kendrick Lamar, hip-hop's beatnik poet-turned-frontman of his generation. On "FEEL.", from his fantastic new album DAMN., Kendrick raps: "I feel like it ain't no tomorrow, fuck the world/ The world is endin', I'm done pretendin'." Nuclear destruction is hanging over this planet and K Dot can't escape the doom. How did it come to this?
It's six years since Kendrick cruised through at 30,000 feet on debut album Section 80. He may have talked affectionately about the jet life on "Hol' Up", but the rapper's loyalty to the streets of Compton was beyond any kind of reproach. Emerging under the umbrella of a Dr Dre endorsement – not exactly a litmus test for quality anymore – Kendrick combatted the status by rapping about medication tolerance and women's suffrage. He packed the power of West Coast rap history in his chamber without feeling hindered by the burden of such heavy weaponry. The strength of Kendrick's pen has taken him to the highest peaks of rap stardom. He spoke for the city without overtly attempting to seize the soapbox – Lamar just rapped and people followed.
In an alternate timeline, you can picture Kendrick copping some nice internet write-ups before being ditched for the next rapper with momentum or losing to the rabid chaos of the Chicago drill scene. But in the aftermath of Section 80, racial tensions hit their highest point since the Los Angeles riots. Kendrick's songs were the sound and the fury as Obama-era hope crumbled and anti-black violence began to infect our newsfeeds with too much regularity. He made music to soundtrack the Black Lives Matters movement – politically assertive in its approach, swathed in Christian doctrine. DAMN. is all of those things, but Kendrick's cleavers are sharper than ever before. His self-doubt has surfaced; his anger and frustration more palpable than ever.
Discounting the excellent odds-and-ends collection untitled. unmastered, Kendrick's last outing To Pimp A Butterfly was the soundtrack of a social movement. Mixing weighty subject matter with grandiose arrangements – courtesy of a jazz-engaged team of musicians that included Kamasi Washington, Terrace Martin, Robert Glasper and Thundercat – the album tried to scream MASTERPIECE at you from all directions. There were some (though not me) who found its verbosity off-putting, as though Kendrick had traded enjoyability – something music must be before it can be anything else – for grandeur. Those critics will be satisfied to hear DAMN. trades the slam poetry sketches and sonic noodles for a simpler formula. It's a bunch-a-good raps on chiseled beats, deploying classic West Coast-style hip-hop, boom bap, trap, hollowed-out cloud rap, guest shouts from veteran DJ Kid Capri, and shades of '70s Parliament funk. You can play the album at a party through cheap speakers while sipping warm beer without a saxophone interlude or slam poetry sketch killing your vibe. "I tried to lift the black artists," Kendrick raps on "ELEMENT.", possible nodding to TPAB's scope. "But it's a difference between black artists and wack artists." No messing now, yeah? DAMN. is all beats, rhymes and life – sometimes that's all you need.
On "ELEMENT.", Sounwave (a key Kendrick lieutenant who goes all the way back to Section 80) mixes a spooky RZA-style loop with some to-the-point drum machine rat-tat-tats. Lamar stretches out his impressive flow by shuffling through a few different rhythms, the hook sticks and the whole thing ends with some slowed-down DJ Screw-style sonics. It's a classic piece of rap songmaking, no loose ends or false starts. The minimal trap outlines of the bass-heavy "DNA" and aggressively thumped piano keys of "Humble", both produced by Mike Will Made It, qualify them as two of Kendrick's preeminent bangers. "If I quit this season, I still be the greatest, funk," he spits on the latter with classic street rap braggadocio. With more acidic fury than ever, Lamar has never rapped better than he does throughout DAMN..
Yet TPAB's shades of hope have been replaced by feelings of destitution. Why wouldn't they? The worst possible presidential outcome for those who chanted the lyrics to "Alright" at Black Lives Matters rallies came to pass with Donald Trump's ascendancy to America's highest office. Retreating into a darkened room to lick his wounds, Kendrick peers out at the new world from behind the curtain. He lashes out at the serpents of Fox News at every opportunity, and tunes his voice to a more vulnerable Curtis Mayfield-esque quiver on the somber Badbadnotgood-assisted "LUST" before revealing he's still "sad, distraught and mad" about last November's result. In the dark moments, Kendrick leans on scripture more than ever before, sounding like a conflicted prophet seeking guidance from holy parchment.
On "XXX" (automatically one of the best things U2 have ever stamped their name on), Lamar puts it to us that "the great American flag is wrapped and dragged with explosives". To the rest of the world, this is no great insight. The US drop a lot of bombs they shouldn't. If you don't believe me, Ron Kovic will tell you it's true. Right now, there's a president is in the White House obsessed with military strength as a symbol of supremacy and swapping his non- interventionist election pledge for mindless aggression. "But is America honest, or do we bask in sin?" Kendrick asks. "Pass the gin, I mix it with American blood." K Dot is one of the few American writers actually questioning if they're the bad guys.
DAMN., though, is at its most punchy when Kendrick narrows his lens and turns the viewfinder on himself. "FEAR.", one of his greatest songs, opens with a phone call from his cousin Carl who, worried that his kin has retreated into a dark place within, quotes from Deuteronomy 28:28. The Alchemist's bluesy beat could soundtrack a bottomless bottle of brown liquor as Kendrick shuffles through key stages of his life. He raps about his mother's firm discipline, landing on age 27 (which is about two years ago), when he discusses his fears of losing his creative spark and losing himself to the wickedness of rap stardom. This is music not necessarily meant to be inspire, but to provide it's creator with a sense of catharsis. Beneath DAMN.'s bass is one of the best writers of his generation is cleaning out his closet and emptying his book of rhymes. In doing so, he's given us the kind of record we need, in times we never wished to see.
---
Lactose and Lecithin is where I write about about music, culture and things that I like. I've a Twitter account and this blog has a Facebook page.