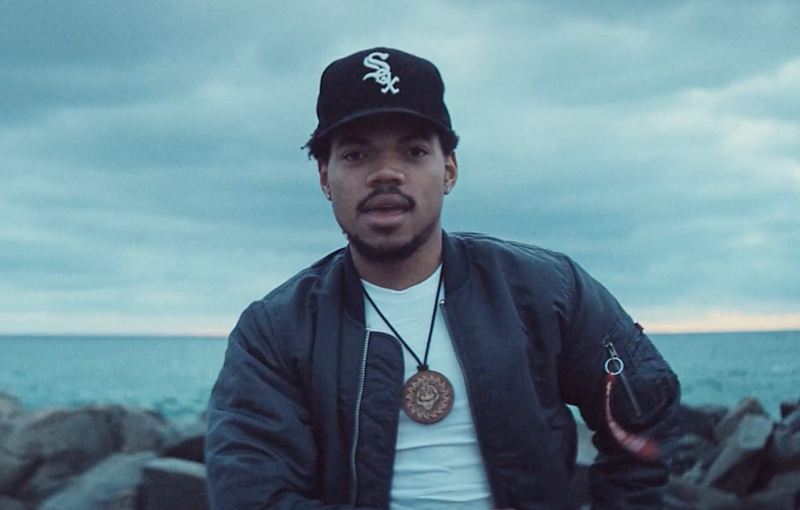 On 2013's Acid Rap, Chance The Rapper was the kid raised from birth to believe in the Christian god, but who skipped religion class to toke on a poorly-rolled joint in the school bathroom. He was the Sunday morning churchgoer who'd sneak out the house to spend Saturday night with his girl. Christianity has always been sewn into the fabric of hip-hop – from Tupac's calls to hail Mary, to Biggie wrestling with the concept of heaven and hell, to The Game's Jesus piece – and Chancelor Bennett was the latest in a long line of the perceived sinners seeking redemption from his heavenly father while simultaneously indulging in life's hedonistic pleasures.
So what's happened in the three years since? Third solo release Coloring Book is as dedicated to religion as a mainstream hip-hop album has ever been. Building on his guest spot on Kanye West's bring-the-church-roof-down 'gospel rap' joint "Ultralight Beam", Chance's faith is at the forefront of almost every song. "I get my word from the sermon/ I do not talk to the serpent/ That's a holistic discernment," he raps on opener 'All We Got', a track that includes a declaration that the young dad's "life is perfect". Late-night piano ballad 'Same Drugs' is not about drugs, Chance claims, but still reads as a friendship drifting as one side shuffles to god and the other stays on an acid-laced road to wickedness.
Kanye's connection to religion has always felt like him trying to fill a hollow hole in his chest. His struggles with balancing faith with the vices that come with being a rap star is a theme that runs throughout his work; the weight of Christian doctrine pressing down on him with more force after his mum died. On Coloring Book, Ye's young Chi-Town protégé blesses himself and kisses the sky. Chance's positivity is admirable, I guess, but it's dubiously relentless. His grin never fades, but there's not much going on behind the eyes. The album is a wave of Christian sentiment without a trace of humanity or sense of corruption to act as counter-balance. I don't share Chance's beliefs and felt isolated from the material because of it. Coloring Book is as appealing to a non-believer as Sunday service.
Acid Rap was touched with spirituality. Chance had the mournful soul of a young man who'd sought strength from a higher power to pull him through some dark times (like the stabbing death of a friend, which Chance witnessed). But his overwhelmingly glowing outlook here too often surfaces as schmaltzy and corny, adding up to a set part-sitcom themes, part-Sesame Street songs. The "Do-do-do" hook on "Finish Line / Drown" would sound at home on an eighties infomercial. "D.R.A.M. Sings Special" sounds pulled from a kids' DVD your toddler spun into the ground. The clean version of Coloring Book would be perfect to bump with a mini-van full of kids. The take away is about as fulfilling as a flip book of limericks about barnyard animals.
Chance, I've no doubt, is capable of making music that invigorates. If you subscribe to the Pentecostalism belief of getting a direct line to God through baptism with the Holy Spirit, then the 23-year-old sounds like a preacher touched by a higher power. His voice does things that no other human voice does. There are points on Coloring Book when he sounds electrically spiritual, swathed in soul and charming on the ear. If Game of Thrones' religious insurgents The Sparrows heard the bluesy "Blessings", they'd lay down their weapons and lay out in the King's Landing sun. But Chance has a nasty habit of twisting his vocal cords into knots. He often struggles with tune when he sings and seems unaware of vocal limitations. His rumbling flow on the disco-infused 'All Night' ticks and croaks without rhythm. His antagonistic spit on 'No Problem', a song that sees Chance asserting his independence from the label system (something that's been disputed given his ties to the all-powerful Apple corporation), is jerky and lacks form. That he can't consistently shift into a vocal styling that suits is indicative of the indiscipline that hampers the album.
Chance played band member on last year's Surf, a dull-as-dishwater jazz record spearheaded by Donnie Trumpet, and he leans on many of the same musicians here. Coloring Book is a vintage music box of thumping drums, rapturous choirs, church organs and blaring horns. 'All We Got' tries to rein in all its elements, adding Kanye's auto-tuned coos. But the song's a real mess – a swarm of sounds that have little or no relationship with one another. 'No Problem' stacks a tuneless chorus on a tuneless choir. These are anthems to raise a church roof, but they don't wash when you funnel them through a headphone jack.
The album's best stretch comes through its middle section. 'Mixtape' features a peak-form Young Thug over the kind of creeping key riff and gritty drums he's been slaying for months, while 18-year-old Atlanta rapper Lil Yachty claims the prize for best verse on the album. Early single 'Angels' is the Coloring Book formula done right — Chance leading the band in a sunny, baroque trunk rattler that's as fun on the ear as it is enthusiastic. Justin Bieber lends the chorus to "Juke Jam", a slinky nineties R&B number that interprets R Kelly's "Feelin' On Yo Booty". It's a much better look for the sweet-voiced pop pretender than the grating Skrillex synths he's building his empire on.
These are moments of musicality that, in Chance's hands, come through loud and clear. They're proof that when he wields a tighter grip on his songs, wonderful things can happen. Gospel music, of course, doesn't invigorate because of structure. Control of the music is, in theory, handed over to a higher power — a force greater than arrangement choices or chord progressions. But Coloring Book doesn't feel blessed by such an incommunicable power. It's just uncontrolled madness that more often than not doesn't lend itself to good songs, with a central doctrine too preachy and threadbare to be moving.
I'm happy for Chance. His positivity is admirable. It's just not always infectious.
---
Lactose and Lecithin is where I write about about music, culture and things that I like. I've a Twitter account and this blog has a Facebook page.